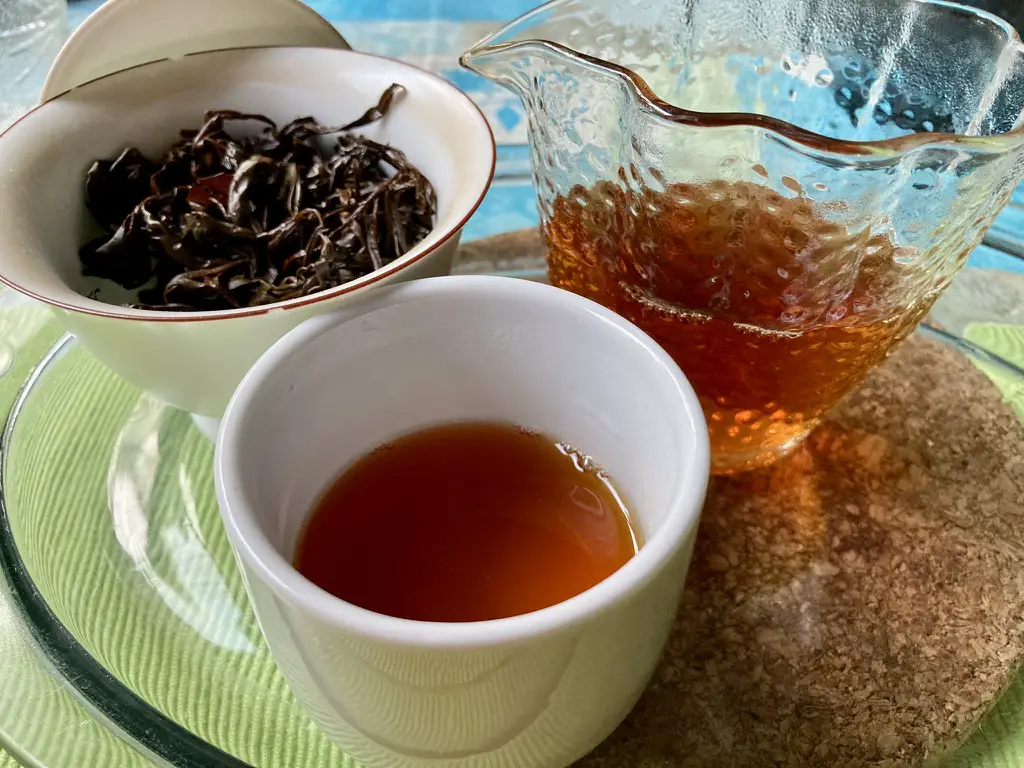 [Though we may receive a commission through affiliate links, our reviews are independent and unsolicited.]
They say that black tea is among the most popular drinks in America, but many who have had lousy tea experiences don't understand how this can be.
And I can't blame them because I felt the same for a long time.
Whether it's a wickedly bitter black tea served tableside after too much white rice, a stale black on a long flight, or an iced, sweet tea somebody forgot to sweeten, the result is often a disappointment.
As a tea farmer, the sad truth is that much of what's been sold in America as black tea doesn't add pleasure, vitality, and focus to the day. It's as if the industry forgot there's a point to drinking tea beyond injecting caffeine into the bloodstream.
But why is the average black tea so bad, and what can you do about it?
This two-part question is essential to understanding today's tea market, but I want to focus on the second half and offer hope to the tea-aggrieved.
Where Are The Best Black Teas?
The good news is that the quality of tea in America has improved so profoundly that even the worst of today's "restaurant tea" is better than what we had ten years ago. A flood of imports from the great tea cultures of China, India, and Japan, among many others, has been transformative for American tea drinkers and inspired me and others to farm and manufacture homegrown black tea.
The catch, however, is that you must know what to look for to get the best black tea. That's where I come in, as your tea guide to help you explore new options. As part of my ongoing study of tea farming and manufacturing, I investigate the market for excellent teas at a fair price.
I'll walk you through a list of black teas I recommend and provide links for purchase so you can sample each.
I hope you'll find a black tea that enlivens your taste buds and renews your interest in black tea. Or, if you're already a black tea enthusiast, perhaps you'll discover an entirely new tea to check out.
How I Chose The Winners: Find The Sweet Spot
It's a pretty well-known fact that Americans love sweet foods and drinks. And not only sugary sweetness but also sugary mouthfeel, which is the sensation and texture of a beverage as it coats the tongue, gums, and soft palate.
A milkshake, for example, is more than a gulp of sugars from sucrose and milk. It's the comforting mouthfeel of cold, melted heavy cream swirled with chocolate and cherries.
In stark contrast, the sorrows of black tea arise from the absence of a sweet, soothing mouthfeel and the presence of bitterness. In poorly made tea, sweetness and bitterness are traded against each other with the poor result we've all experienced. 
I've gathered teas for this best-of-black tea list that lean toward the sweet end of the taste spectrum. And if they don't hit the sweet spot, I've chosen ones that lack bitterness yet have excellent flavor complexity.
All black teas recommended here are loose-leaf and unbagged to allow maximum experimenting at home. You'll also be pleasantly surprised that you can often get multiple steepings per batch of tea leaves, making for a cost-effective brew.
Let's start the list with a rising tea star from China that is heavy on sweetness, light on bitterness, and a whole lot of fun.
The tea plant is awesome, but it can't make a milkshake, nor would you want it to. We're looking for a natural sweetness in our black tea derived from neither fructose nor sucrose sugars but from the process of tea manufacture.
Golden Monkey black tea, or Jin Mao Hou in Chinese, is crafted by tea makers to enhance its appeal to our sweet tooth but without added sugars. They have also nearly eliminated bitterness in the brew while releasing the honey-molasses mouthfeel of a caramelized sweet potato you've pureed and spiked with a touch of brown sugar.
It's not a milkshake but more like a comforting holiday side dish served in a teacup.
Golden Monkey gets its name from the appearance of fine leaf hairs that stain reddish-amber-golden and black from oxidized tea "juices." It's a beautiful tea leaf, and if you take a hard look, you can see how the leaf shape, texture, and color hues could resemble the paw of a golden-haired monkey. Or so they say.
Note, however, that I have been enjoying this Golden Monkey tea from FullChea tea merchants for some time, and I'm sure there are no other similarities with monkeys. 
FullChea offers several grades of this remarkable black tea, but I recommend the middle-grade Golden Monkey tea as a starting point. The lower-end Golden Monkey is good if you're on a tight budget, but it's a little less crisp in mouthfeel than the middle and high grades.
Golden Monkey Black Tea Highlights:
Thick, rich sweet potato notes with a malty mouthfeel.
Likely to impress the black tea hesitant.
Steep a batch two to three times with good results.
Alternative tea grades for the high-ender and the budget-conscious.
Points to consider:
The zipper seal packet is hard to close fully; transfer the tea leaves to an opaque, airtight container.
Pay attention to the water temperature and keep it around 195°F (90°C).
It may be too full-bodied for a daily tea. Try the Dian Hong, below.
You'll run out of this tea quickly!
Closely related to Golden Monkey tea in appearance and some aspects of taste is Dian Hong, which means "Yunnan red tea." 
Why red tea and not black? Because in China, they label tea according to the shade of the liquor, which is the part you drink. But in the West, we label teas by the leaf color, which in black tea is usually, but not always, black.
Dian Hong and Golden Monkey have essential differences. Instead of harvesting just the top leaf and a bud, as with Golden Monkey, farmers pluck the top two or three leaves and a bud for Dian Hong.
The contrast in tea qualities can be astounding because the lengths of stem connecting the leaves, called internodes, contain amino acids and other compounds that add depth, sweetness, and smoothness. I've noticed a striking "internode effect" on my homemade black tea.
In this second tea from tea seller FullChea, you'll get a warm, sweet note suggestive of dried stone fruits like apricots or plums. The mouthfeel is lingering, and there's little astringency.
Dian Hong is frequently consumed after dinner to help digestion and stimulate pleasant conversation. Many also say that Dian Hong is their daily black tea, perhaps because of its clean and smooth finish.
Dian Hong Black Tea Highlights:
Excellent daily or dinner tea at a great price.
A fine companion to Golden Monkey black tea.
A black tea with robust tea leaves and stems.
Points to Consider:
Keep the water temperature at 195 – 205°F (90 – 96°C) to prevent scalding.
Use a short 1-minute steeping duration; add 30 seconds to each additional steeping.
The packet in the online image may not be what you receive.
The Wuyi Mountains of China are famous for many great teas. Among them is Lapsang Souchong, which translates to "pine-wood smoked, small-leaf tea." Smoked black tea has long been popular in the West, but an emerging Wuyi favorite is unsmoked black or Zheng Shan Xiao Zhong, which means "original mountain small-leaf" tea.
It's original in that unsmoked was the traditional way all along.
When tea makers leave out the smoking step in processing, the qualities of soil, geology, and climate—the terroir—emerge more fully in the finished product.
In our tasting of unsmoked Wuyi black from Oriarm Tea, the key flavor notes are honey, caramel, and forest freshness. It's not overpowering sweetness but more reserved, like the aroma wafting above mulling spices heating in red wine.
I don't detect bitterness or astringency; the finish is clean and smooth. A great sipping tea!
Brewing Unsmoked Lapsang Souchong
Out of Oriam's resealable packet, these are the blackest dry tea leaves I've ever seen, like little twisted ribbons of licorice. I'm not sure what processing steps they're using, but the makers of this tea have hit upon a unique method. The dry leaves are lovely to behold.
I find a soft boil is best for this black tea, with a 2-minute steeping first, followed by 3 minutes on the second steeping. Other tea drinkers report this tea tolerates a range of water temperatures, batch sizes, and steeping durations. That's good news because a forgiving quality translates to fewer disappointing cups of tea, lowering the chance of buyer's remorse.
Still, if you're worried about costs, buy unsmoked black tea as a treat for special occasions. Bring it out at gatherings or with friends for a serious tea session. Then revel in its glory.
Unsmoked Lapsang Souchong Tea Highlights:
Signature tea of Wuyi Mountain black tea without the smokiness of Lapsang Souchong.
Sweet, as from honey and caramel, and no bitter or astringent notes.
A special treat for gatherings.
Lots of freedom is allowed in brewing conditions.
Points to Consider:
Pricey but unique teas demand a higher investment.
Supply is sometimes limited to boutique tea sellers.
Beware of dinner guests pinching your stash!
I would love to linger in China, but we must move on to India and explore its fine black teas.
The most storied tea community in India is Darjeeling. Here in the heavy mists and cool mountain climate, tea makers at the Castleton Tea Estate discovered that letting tea plants grow old with deep roots produced the best tea leaf.
In Darjeeling, a muscatel flavor, like a sweet, lightly fermented grape, is much prized in black tea. Muscatel harmonizes with a fragrant spice and woodsy note that reviewers find in Vahdam of India's selection of Castleton Muscatel.
I like its citrus essence with a splash of camphor.
The mouthfeel of Castleton's Muscatel Black is medium, lingering, and refreshing, like mint.
Muscatel is a seasonal quality of black tea and is strongest during the second flush of the season, which occurs from late May through June. Indeed, "muscatel," "second flush," and "summer tea" are switchable marketing terms, and many of these teas are excellent and worth sampling. But Castleton's Muscatel stands in a class by itself.
So, don't be fooled by black teas that sound like they're just the same as Castleton's. They aren't.
And Vahdam is a fast, efficient delivery service. I ordered my 3.5-ounce (100g) of Castleton on the 1st of August and received it from the US-based packer on the 3rd. The box had an early June harvest date and a unique lot number. That's not a lightning turnaround, but it's impressive considering all the steps from freshly plucked leaves to delivery of a finished tea. 
Castleton Muscatel Highlights:
Crisp, fragrant muscatel notes with woodsy robustness and a spicey, citrus-fruit finish.
Many quality steepings from a single batch; can be saved for another round the next day.
Rapid mail delivery and Vahdam donates 1% of sales to help educate Indian tea workers.
Points to Consider:
Seasonal and sells out quickly; other second-flush black teas are also high quality.
Experiment with water temperatures to get it right.
If Darjeeling Muscatel is India's celebrity tea, Assam is its brawny giant. 
Stretching across eastern India's steamy, verdant lowlands, Assam produces about half of India's tea annually. Its specialty is creating robust, earthy, and malty black teas with a strength and stoutness comparable to coffee. In short, nothing like Darjeeling black tea.
As a former coffee drinker, I can understand how Assam Black Tea could be a powerful aid in helping one to get off the bean. It has briskness and strength, and Assam tea, made in the cut, tear, curl (CTC) method, even has a shape and texture like course-ground coffee. You can repurpose your coffee press as an Assam tea brewer.
With a mouthfeel like hard-baked rustic bread, Assam tea is heartily consumed at breakfast. You may want to chase a hot cup of Assam with milk and cookies. It's a perfect pairing to offer party guests on seasonal holidays; Santa might even enjoy a cup to wash down his reward.
And many reviewers prefer Assam black tea for kombucha ferments. They say that the maltiness of the tea adds the right balance to the fruity brew.
I recommend The Ghograjan Tea Estate as a favorite Assam black tea producer. In business as a family-run operation since the 1940s, Ghograjan farms a large tea plantation and manufactures CTC tea. The tea is shipped directly from the factory to the US for packing and distribution. It's a farm-2-cup business!
Assam Black Tea Highlights:
Robust, malty tea that's an excellent pairing with baked goods.
Stoutness is similar to coffee and will aid with a coffee-to-tea transition.
Perfect tea for kombucha.
Buy from a family-run tea business with a direct-to-tea-drinker model.
Points to Consider:
Won't get more than one steeping out a batch but one cup is plenty.
Strong teas aren't for everyone; serving with milk will remove the edge.
Tea Farmer's Verdict: Best Black Teas
Most teas I reviewed today have a distinctive sweet note or mouthfeel. The nature of the sweetness was different in each case, a testament to the tea plant's unique complexity and the tea makers' creative skill. Only Assam black tea lacks a sweet component but makes up for it with punchy robustness that screams for a sweet companion treat.
To summarize the appeal and ratings of each tea:
FAQs
How do you steep loose-leaf black tea and prevent a bitter brew?
To steep loose-leaf black tea, you only need two containers: one to steep the tea in hot water and a cup, mug, or bowl from which to drink the tea. You can use a teapot, a gaiwan, or a glass measuring cup that won't for the steeping container.
Cover the measuring cup with a saucer to hold in the heat. Do not use plastic containers or cups.
You'll get a bitter brew when you've used water that is too hot or steeped the leaves too long. To find the best water temperature, start with hot water in the 190–200°F (88–93°C) range, and if you want a more robust brew, increase the temperature five degrees at a time.
A 3-minute steeping time is a good start if you're using a teapot. Shorten the time to soften the brew or lengthen it to make it more stout. In a gaiwan, gongfu style, use 30-second infusions and then add 10 seconds for each additional infusion.
How do I store black tea?
Most tea is shipped in resealable zipper-seal packets. But if the zipper fails, use a food-safe container made of glass, ceramic, or tin-plated steel.
Black tea readily absorbs odors, so ensure the lid is air-tight and the container free of food aromas or chemical off-gassing. Stow the tea in a cool location, and if you're using a translucent container, keep it out of direct sunlight. Properly stored black tea can last for many months after you first open the factory-shipped packet.
How much caffeine is in black tea?
Few manufacturers have a precise estimate of the caffeine in their black tea. However, the USDA reports that black tea has about 47 mg per 8 fl. oz. That's roughly half the average amount of caffeine per cup of coffee. Caffeine levels may vary depending on the type of black tea, so you have to test teas on an individual basis.
What plant makes black tea?
The true teas, including black, green, oolong, white, and yellow teas, are made from the tea plant Camellia sinensis. The difference between teas is how tea makers process leaves after harvest.
Is there gluten in black tea?
There is no gluten in black tea.
Mike grows and crafts tea in North Florida, USA. He has advanced degrees in biology, and has undertaken coursework in manufacturing Camellia sinensis teas. Mike is a member of the US League of Tea Growers (USLTG) and has presented invited talks on tea growing. Send him a note through our Contact Page if you'd like to talk about tea.