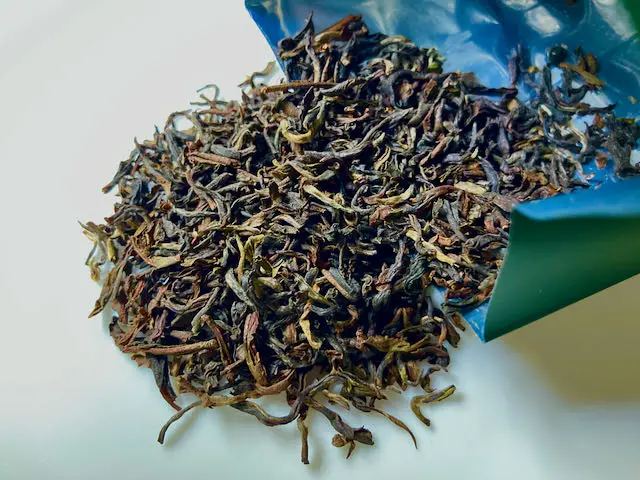 [Though we may receive a commission through affiliate links, our reviews are independent and unsolicited.]
Brewing loose-leaf tea, rather than bagged tea, is an increasingly popular way of preparing the world's favorite beverage.
Loose-leaf teas have two key advantages. First, you can alter the strength of the brew by adjusting the amount of tea leaves you steep. If you drink bagged tea, you're stuck with the amount of tea—and the sensory experience—trapped in a bag.
Another advantage is size, with loose-leaf generally made of larger pieces of whole plant leaf than tea inside bags. Size matters because, among many differences, small particles of tea release flavor compounds into hot water faster than large ones. You get a quick extraction from a bag of tea, and then it's all over.
But with loose-leaf teas, the larger pieces release aroma and taste compounds more slowly. Instead of getting a quick blast of everything the tea has to offer, loose-leaf tea expresses its flavor and character gradually and with more complexity.
In short, loose-leaf gives us flexibility in how we experience tea. In my tea-craft enterprise, I only manufacture loose-leaf products because consumers appreciate what tea leaf has to offer in its freer, more natural form.
Loose-leaf Tea Sounds Great. What's the Catch?
As the American tea market grows, the discerning tea lover has to use caution. Some tea manufacturers sell low-quality loose-leaf, hoping to cash in on the craze.
At the same time, tea newcomers are overwhelmed by the sheer number of choices, making smart buying decisions a challenge.
Is there a resolution to this tea conundrum?
The answer is an enthusiastic yes! The average tea is better today than ever, and here I'll share my recommendations for the best loose-leaf teas on the market. I collect and study other tea makers' products because it's fun and sharpens my tea farming and processing skills.
You benefit from my continuing education with a list of the best loose-leaf teas!
How I Picked The Best Loose-leaf Teas
You're on this page because you want to drink great tea. A lot of readers here are also just getting started on their tea journey and want guidance in choosing the best loose-leaf teas.
I'm happy to help, and here are the criteria I use to select tea for this list:
Let's get started at the top with a tea that will be a surprise to many.
Japan is famous for its green teas but not its black teas. This is a shame because loose-leaf black tea from Japan is some of the finest black tea for the price I've ever sampled. If I lived there, it would be my daily tea.
The primary flavor tones are sweet and earthy, with minor notes of dried flowers and tart fruit. There's no bitterness and very little astringency. And the mouthfeel is smooth and clean while nicely enduring after the sip.
My top recommendation is a handpicked and loose-leaf black tea by Ocha & Co. of Japan. They work hard to maintain high-quality, organic standards on their tea farm and in their production facilities. Ocha & Co. also monitor heavy metals and other toxins in their tea plants and soils. Without synthetic chemicals interfering with plant growth and self-defense, the true nature of the tea plant can emerge in your cup.
Always made in small batches, Ocha & Co. delivers a sweet black tea with a gentle finish. The dry leaves are dark brown and black with a medium twist. They aren't the prettiest of leaves, but great teas seldom are. The 3.5 oz (100g) packet is vacuum-pressed into a half-inch-thick brick for preserving flavor and easy shipping.
You can't go wrong with a loose-leaf breakfast tea to start your day.
Breakfast teas are a blend of two or three different types of black tea that, together, have a flavor and mouthfeel distinct from each tea on its own. Breakfast teas are usually malty, robust, and have a smooth, lingering finish. The idea is to make a tea that pairs well with toast, cereal, sweeteners, and perhaps milk. Tea makers often prefer hearty, bold Assam black tea for the foundation of the blend, which they take the edge off with black tea from Ceylon, Kenya, or China.
The blend called English Breakfast is the best known of this breakfast tea and is produced by many manufacturers. I recommend English Breakfast tea from Rishi Tea, which sources high-quality, USDA-certified organic teas from around the world. Their English Breakfast selection is bold without the bitterness of many black teas and has a fragrance of aromatic herbs and seasonings.
Many like to drink breakfast teas every day, so bargains are essential. Rishi offers the value of one pound of loose-leaf tea in a resealable packet. If purchased by the pound, costs per cup are much lower than in smaller quantities.
Scottish Breakfast is an option for those who want a stouter tea; it leans more heavily on Assam black tea's strength and less on Ceylon's mildness. Organic Positively Tea sells a one-pound bag of its loose-leaf Scottish Breakfast but is significantly cheaper than the Rishi brand. And it's also organic! I've had many teas from these two brands, and they are both excellent.
Many tea drinkers like milk in their black tea. Milk adds comforting warmth, lessens tea bitterness, and swirls in a touch of sweetness. 
The best black tea for milk has a robust, hearty mouthfeel, which is why loose-leaf black tea from Assam, India, is a favorite. Assam tea is the savory backbone of breakfast teas and stands in a class by itself for its bold, brash, and malty qualities.
I like the Assam black tea grown and manufactured by Mana Organics. This family-run tea business caught my attention when I was learning sustainable tea farming and wanted to prioritize soil health for my tea garden. Mana believes that building soil makes better teas, and if you try their CTC black tea, I think you'll agree.
CTC stands for "cut, torn, curl" and is a processing method that causes deep oxidation of plant polyphenols. The result is a dark red tea with strength, briskness, and surprisingly little astringency. Tea made the CTC way is rolled into small pellets that expand into pieces of whole leaf in hot water. Use a mesh strainer or a French press to separate the leaves from the liquid, and enjoy the tea!
Stir in milk, and you'll get a thick, creamy brew that feels like you're cheating on a sugar-free diet. Some do, indeed, add table sugar to the mix, but I don't find that adjustment necessary.
I don't know from experience, but I hear that non-dairy milk made from almonds or oats also works with Assam CTC black tea.
If I have one complaint: Mana Organics only offers one packet size of 7 ounces (200 g). That sounds like a lot, but CTC pellets are small, and I make strong brews with a lot of tea. However, Mana's price per ounce is compelling, so I buy multiple packets.
Alternatively, you can try another Assam black I have reviewed and enjoyed. The family-run enterprise at the Ghograjan Tea Estate grows its own tea and processes a very fine CTC Assam black that's great with milk. They offer one-pound packets and sometimes smaller quantities as well.
[Update: September 2023: Ghograjan is out of stock until mid-October. As a worthy substitute, Vahdam's CTC Assam is available in 12-ounce packets, or you can just buy more of Mana's Assam at the link above].
For many in the tea business, iced tea was our starter tea. It was served at most meals, maybe even breakfast, and it was always made with bagged black tea. And because the quality of the tea was poor, it was always brewed with heavy sweetening. It was more like a syrup than a beverage.
Fortunately, you no longer have to dissolve a mound of table sugar into the tea pitcher. Instead, we can brew naturally sweet teas, thereby reducing or eliminating sweeteners. 
Golden Monkey Black Tea from Organic Positively Tea is my entry as the best loose-leaf tea to ice. Golden Monkey is carefully processed to hit the sweet spot in the tea plant Camellia sinensis. The flavor of Golden Monkey is sweet and savory, somewhat like a baked yam or lightly buttered bread, and with a strength that supports the tea through melting ice. Preserving flavor and mouthfeel despite dilution and cooling is key to a great iced tea!
I understand the power of a bossy sweet tooth and that you might be tempted to add sugar to iced Golden Monkey. Remember, however, that one of the virtues of loose-leaf tea is that you can fine-tune the amount of leaves you steep. So, instead of adding sugar, first try deepening the flavor intensity by steeping more tea leaves per batch. With some experimenting, you might find that you're looking for a robust iced tea rather than sweet tea syrup.
Of course, Positively's teas are USDA-certified organic, so you have the confidence that you're not drinking in residues of pesticides or herbicides.
If you drink a lot of iced tea, you're probably looking for a bargain price in loose-leaf tea. Try Golden Monkey Black Tea, sold by FullChea. I've enjoyed FullChea's Golden Monkey hot in a cup and iced in a tall glass, and I find their offering an excellent buy. In fact, my first introduction to this brand's tea was a serving of iced Golden Monkey offered by a friend. You'll trade a tad of smooth mouthfeel for the price, but I don't find it off-putting.
When I want a break from caffeine, I turn to loose-leaf Honeybush tea.
Unlike the Camellia sinensis teas reviewed here, Honeybush is made from legume family plants that do not make their own caffeine. Closely related to Rooibos tea, the distinct flavor of Honeybush emerges when the tiny leaves and stems are harvested, chopped, and oxidized under the hot sun of South Africa, where Honeybush is native.
During Honeybush processing, a sweet, earthy note, similar to some black teas, develops and is preserved during leaf drying. Honeybush has a clean, crisp mouthfeel that leaves your mouth refreshed. Because it's great hot or iced, Honeybush is a favorite daily tea.
Davidson's Organic Tea is a faithful supplier of quality teas from around the world and is my top choice because of its excellent flavor. It is also the least expensive tea on this list and a great value. A pound of Davidson's Honeybush will last you a good while.
Check out Green Honeybush if you'd like a less oxidized tea with more antioxidants. It's made from the same plant but has a lighter, more floral aroma than oxidized Honeybush, and of course, it is naturally caffeine-free.
If you order "chai tea" in America, what you mean is "spiced black tea." However, chai, in the Indian language of Hindi, translates to "tea," so "chai tai" is redundant. But for the sake of consistency within my home country, I'll stick with chai tea and soldier on.
The spices and teas used to make chai can vary among tea manufacturers. The most basic or original recipe includes a robust black tea combined with cardamom, cinnamon, cloves, ginger, and peppercorns. In India, whole milk and table sugar are often mixed into hot chai, but many Americans prefer their chai unaltered. I've been served chai with and without milk and sugar, which is a delight both ways.
Vahdam Teas is a seller of premium teas from India. Rapid turnaround from the tea factory to your doorstep is Vahdam's value-add. Their Masala Chai is the original recipe with a CTC black tea that nicely balances maltiness with a complex spiciness that's unique to chai.
You can explore many variations of chai, but I recommend that beginners stick with the reliable original Masala mix and work from there. Believe me, it'll be a fun trip!
Some tea drinkers may wish to blend chai spices at home. Vahdam Teas offers a large selection of prepared spices and seasonings to supply the DIYers. Each seasoning or spice ships in a convenient, resealable container to maintain freshes. Mix in one of the Assam teas I recommended earlier, and get creative with the blend that suits your tastes.
Oolong is one of those teas people either love or hate. For me, it's love because it comes in so many variations that when you tire of one style of oolong, you can move on to the next.
I recommend an oolong with earthy, toasty, and nutty notes for tea drinkers just starting. Perhaps one with just a dash of floral as well. A strongly floral oolong reminiscent of green tea is worth sampling but can be difficult for some.
The Tao of Tea's Black Dragon Oolong is a good starter tea that hits the nutty-robust part of the oolong flavor range. Tea leaves processed into oolong pass through many steps, including a resting/oxidation stage. This is where the Black Dragon develops its oxidized flavor tones that soothe the palate.
Black Dragon from The Tao of Tea also comes shipped in a nice little tin that's worthy of gift exchange.
Oolong tea can be pricey in small quantities. If you want a bargain oolong with a similar flavor profile to Black Dragon, try Davidson's Organics Qilan Oolong. You can get a pound for about half the price per ounce as the selection from The Tao of Tea, and it's a good tea, too!
The Verdict: Best Loose-leaf Teas
FAQs
What Teaware Is Needed For Loose-leaf Tea?
If you're new to loose-leaf tea, don't fall for the line that it's complicated to brew. It's not!
Here's all you need to get started:
And that's it, all you need to brew loose-leaf tea. As you become more comfortable with drinking loose-leaf, you might upgrade your teaware to something that's prettier or produces a better result. Just see how it goes before spending a lot of money on teware. Buying quality tea is a more important priority, in my opinion.
How Do You Brew Loose-leaf Tea?
Like most things in life, finding your happy space requires finding a balance. When preparing loose-leaf tea, the balance of factors is key. Consider these factors as you learn to brew loose-leaf tea properly.
Water Temperature
Most manufacturers advise steeping tea in boiling water (212F, 100C), but they don't tell you that a full boil can turn a good tea bad. Instead, experiment with a lower temp range, like 195–200F (90–93C).  Work your way up to a full boil if you think a flavor or aroma is hiding in the tea and needs a nudge to express itself. You may also notice that water below boil is easier on your lips and mouth!
If you don't have a heat-safe thermometer to check the water temperature, watch the bubbles in the kettle as it heats. You'll learn when to stop heating based on the size of the bubbles.
Amount of Tea Leaves to Steep
Newbies make the mistake of not steeping enough tea leaves (or of using too much water; same thing). If the tea flavor isn't deep enough, use more leaves in the next batch while keeping the amount of water the same.
Steeping Duration
You have a lot of flexibility with steeping duration, but I do pay attention to the manufacturer's recommendations here. For instance, if they advise short steeps, like 45 seconds, you have a delicate or complex tea. In contrast, if they suggest a wide range, like "3 to 5 minutes," then it's harder to over-steep, and you can experiment with duration. Regardless, I think you should use more tea leaves before steeping longer to bring out depth and flavor.
Number of Steepings
One benefit of brewing loose-leaf tea is that you can, with some teas, steep a batch more than once. You might find, to your delight, that the character of the tea improves with each steeping. You'll have to experiment with water temperature, leaf amount/volume, and steeping duration to find the combination that yields the most enjoyable tea. And that's part of the fun!
Loose-leaf vs. Tea Bag: What's the Real Difference?
If you cut open an ordinary tea bag, you'll see it contains small bits or dust-sized particles of material. Believe it or not, this stuff started out in the tea plantation as whole leaves and stems. After harvest, it went to the factory, got processed by various machines, and eventually packed into tea bags for the cup (I skipped a few details, but that's the jist of it).
Teas marketed as loose-leaf, in contrast, are larger processed pieces, maybe even whole leaves attached to plant stems. The material that ends up in tea bags is often the by-product of manufacturing whole leaves and stems; in some cases, it's just dust. It's amazing that there is flavor at all from bagged teas.
In any case, leaf size is the main distinction between loose and bagged, and it matters for at least two reasons.
First, loose-leaf teas are usually twisted, reshaped, and dried during processing. If the leaves haven't been broken too severely, their natural form as a whole leaf will be restored while steeping in hot water. Observing tea reconstitute and gradually releasing beautifully colored extract is part of the joy of drinking loose-leaf tea. For instance, black tea made from Camellia sinensis turns water amber-colored or dark brown.
The second charm of loose-leaf follows from the first. As tea steeps, amino acids, polyphenols, and starches are extracted from the leaf. These are the compounds that give tea its flavor and mouthfeel. In tea bags, the flavor elements are extracted faster than whole leaves, which have less surface area relative to the total volume of the leaf.
So, instead of getting a slow release from large pieces of leaf, bagged tea dumps everything quickly into the water. The tea drinker will notice the "loudest" flavor above all others, while in loose-leaf, there's more opportunity for the quiet flavor notes to get a hearing.
Mike grows and crafts tea in North Florida, USA. He has advanced degrees in biology, which occasionally help with making better teas.